Click here to see 25 Products to help you Go Green this Earth Day!


And now, go green in style with these cool items from Viva Terra:



Timber Block Stool (set of 2) $50 surcharge

Made from recycled tree limbs that were left for waste, these stools are ingeniously assembled, bark side in, to form a combination table-stool. One of the most versatile furniture pieces we offer, the timber blocks can be grouped together to form a coffee table, or used individually as displays and serving surfaces. Put to any use, the blocks-each slightly different-are a ruggedly stylish way to bring the outdoors inside. 15"L x 15"W x 20"H



Candywrapper Bag

Juicy Fruit meets Christian Dior. Not exactly, but allow us a wee bit of license to do justice to this yummy tote and carryall with recycled leather handles and dangling pod and bead adornments. Made from 100% recycled wrappers headed for landfill, the roomy interior of this slightly tapered and wide-bottomed tote bag holds objects large and small, including the matching clutch.



Vetiver Balls (set of 5)

Colorful fiber is wrappedaround soothing and upliftingvetiver roots, a wild grass whoseessential oils are prized in Asiafor their healing properties anddelightful, subtle woody scent.Collected in a basket they become unusualdecor.



Veggie Parchment Bowl - Lotus Root

Inventive natural sculptor Margaret Dorfman continually produces new, remarkable creation sby transforming edibles into luminescent, chemical-free vessels. Her latest is made from naturally dyed lotus root that combines a lacey cut-out pattern with the vibrant pigments of pomegranate, beet and berry juices. Assembled slice by slice, all bowls are hand shaped to resemble large, bright undulating flowers, and coated to retain their translucent vibrancy.

Go green in style with these cool items from Urban Outfitters:



Recycled iPod Case
Live green, live long and live free with your music. And do it all with this bright iPod case, constructed from partially recycled plastic, cardboard and press paper board and designed with waste reduction in mind. Easy access to iPod controls and a magnetic flap closure make using your case a snap, while an adjustable belt loop helps you listen on-the-go. Fits iPod Classic. Imported. Wipe clean.
* 2.75"w, 4.5"h, .75"d
* Plastic, cardboard, paper board



The Green Book
Go green! Environmental matters get the star treatment in The Green Book. Authors Elizabeth Rogers and Thomas Kostigen address the fact that Americans endanger the balance of the ecosystem by the amount of waste we produce, the amount of water we use and the amount of energy we consume. Celebrities, including Robert Redford, Ellen DeGeneres, Jennifer Aniston, Faith Hill and Dale Earnhardt Jr., contribute observations and suggestions for living green. In the hope that the glamour of the A-list will make discussion of environmental challenges more palpable, Rogers and Kostigen establish 12 aspects of our habitat, such as home, work, and school, and suggest better lifestyle choices in each arena. Small adjustments in the way we consume and dispose of resources add up to significant and positive environmental effects. Illustrating the results of green actions with descriptive rather than numerical analyses, Rogers and Kostigen write, for example, that if everyone in the U.S. used one less paper napkin per day, in a year's time we would have saved one billion pounds of landfill waste. This is a truly outstanding resource, and one you won't want to live without. The Green Book offers hope and practical suggestions for a greener future! Made in the USA. Wipe clean.
* Authors: Elizabeth Rogers and Thomas Kostigen; Publisher: Three Rivers Press
* Soft cover, 224 pages
* 5"w, 8"h



Recycled Magazine Mirror
Large round mirror covered with coils of recycled magazine pagers. Rolled into coils, the pieces of paper are attached to the mirror's frame and then sealed for durability and shine. Finished with embedded hook at the back for hanging. Imported. Wipe clean.
* Hardware for hanging not included
* 21"dia, 2.5"w
* Paper, glass



It's Easy Being Green Book
It's Easy Being Green is a handy tool to help you make better choices for the environment. This is what the busy person needs to start making changes today. Get informative, comprehensive and practical information for adopting greener buying habits and identifying earth-friendly products; shopping for green products online; participating in online activism; and learning from over 250 eco-tips for cultivating a sustainable environment. This book concurrently presents a plan, tips and an Internet resources list that you can use to follow-through on good intentions. An extensive product labels list is also provided to help interpret how some foods are produced. If you haven't invested in substantially greener behaviors, consumerism and politics because you didn't know how or thought it was difficult, help is here: It's Easy Being Green is a handbook for all those who aspire do more to protect the environment but want it to be simpler. You can make a difference! Imported. Wipe clean.
* Author: Crissy Trask; Publisher: Gibbs Smith
* Soft cover, 168
* 5.5"w, 7.5"h

Go green in style with these cool items from Uncommon Goods:



Protect Our Earth Glasses - Set Of 4

These recycled glasses are made from the bottom halves of Bordeaux bottles that were "rescued" on the way to the landfill. A beautifully etched branch design is accompanied by the phrase 'Protect Our Earth' in four languages: English, Spanish (Proteja Nuestra Tierra), Afrikaans/South African (Bewaar Ons A Arde) and French (Proteqez Notre Terre. Made in Wisconsin. Sold as a set of 4.



100% Recycled Cotton Shopper Tote

Designer R. Nichols believes "As long as we are doing our little part for the world, why not do it with style?" He created this playful and functional canvas bag to not only put a little spring in your step when you roam the aisles, but to also cut back on waste in our environment. This 100% recycled tote is made with 80% post-industrial recycled cotton and 20% post-consumer recycled plastic. Roomy and sturdy with an original illustration, this reusable grocery tote destroys the paper and plastic competition. Made in the USA.



Custom Record Bowl

Are your old vinyl records gathering more dust than playtime -- and yet you still can't seem to part with them? Whether you twisted to the Beatles, swayed with Aretha Franklin, danced with the Dead, two-stepped with Loretta Lynn or boogied with the Bee Gees, artist Jeff Davis will personally turn your old LPs into these hip, stylish and custom-made record bowls that will put a new spin on your favorite artists. Handmade in Philadelphia.

Go green in style with these cool items from Gaiam:
FREE Shipping on purchases over $75. Use Code EARTH. Expires 4.30.08 Cool It Thoughtful Tee

100% organic cotton tees not only inspire, they also spark positive change in communities around the globe. Low eco-impact dyes. Short sleeve. Imported.
$5 from every shirt sold goes to Conservation Fund®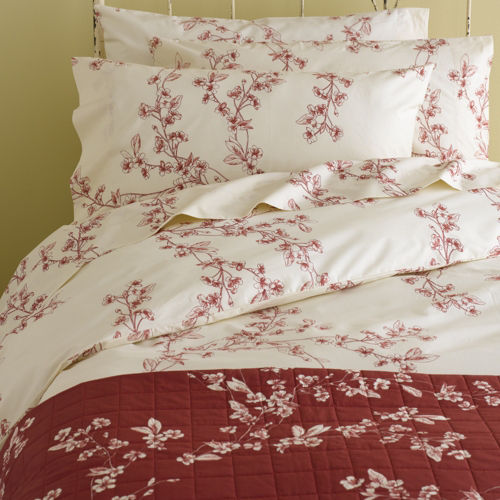 Organic Cotton Fiore Bedding

Delicate blossoms are artfully rendered in the soft hand of our 220 thread-count 100% organic cotton percale bedding. Part of our Collezione Organica, this program was created exclusively for Gaiam in Italy by a manufacturer with the highest quality and environmental standards. Sheet set and duvet cover feature red blossoms on a natural ground and coordinating quilt has natural blossoms on a red background.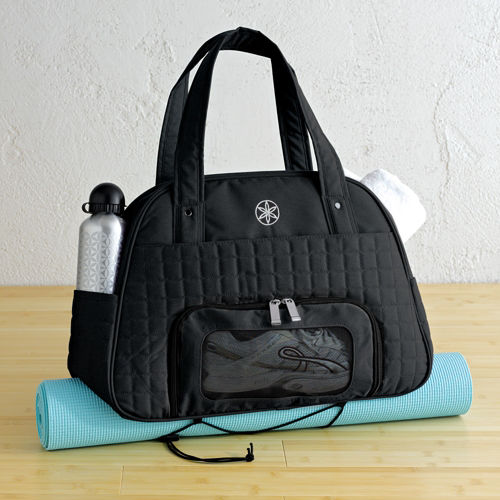 Everything Fits Gym Bag

Our eco-chic bag keeps you organized. Its roomy interior features a zippered pocket, an elastic pocket and a key tether. A vented outside compartment can hold shoes, wet clothes or towel. Includes an easy-reach outside pocket for water bottle, inside and outside holsters for cell phone and MP3 player, and bottom adjustable straps for your yoga mat. Imported.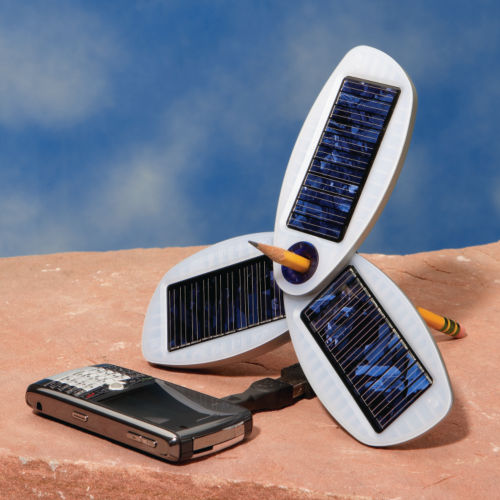 Solio Solar Charger

Meet the next generation of solar chargers and our new top pick for portable power. Though its solar cells are rated at just 1W, the new Solio's high-capacity battery and onboard firmware provide a variable output as high as 8W — nearly double the needs of most gear. Three solar blades retract neatly to keep it pocket-size, and it holds a charge for up to a year. Includes Nokia, Samsung, Motorola, and Mini USB tips (many others available), cable, AC adapter with international plug set, 12V female adapter, and suction cup. Optional urban-hip case made of recycled inner tubes. China.